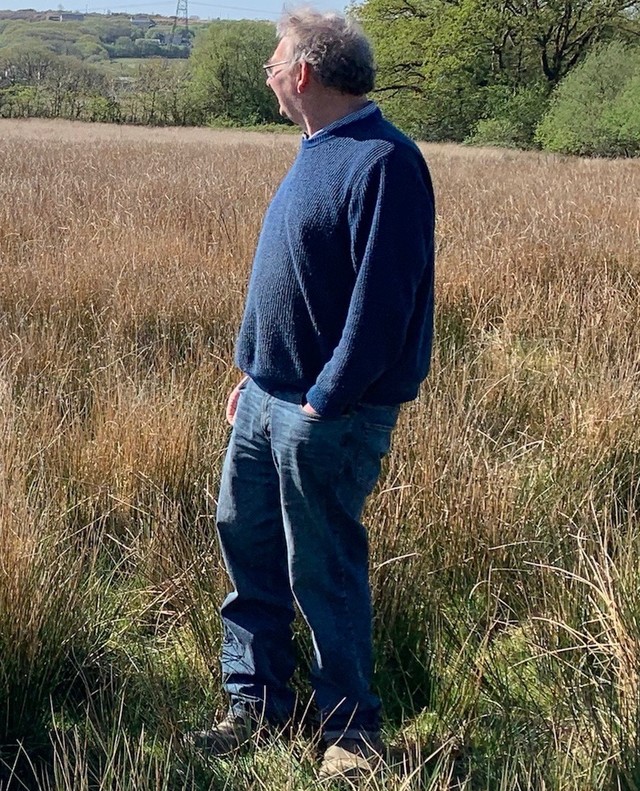 Gwynne Popham
Tyn Y Plancau Farm in Hensol
Born 16th October 1959
Passed away suddenly on 18th April 2020
Memories of Gwynne
24th March 2021

The last time I saw Gwynne was when I was walking into a shop and he was walking out, we spent only a few mintes having a chat but as usual, he laughed a lot.
I spent many hours chatting to Gwynne over the years, but I never really knew much about him, he was always interested in what was going on with other people, rather than himself.
One thing that sticks out with Gwynne is his generosity and the way he added the species of animal to their names, eg Tobyhorse, Zeusdog, lol. Rest in Peace Gwynne, I regret not popping in to see you more often. X

19th June 2020

I remember Gwynne starting as a young apprentice at Trivett Brothers in Peterston super Ely when I was the only employee outside the family. Together we would lean our craft and trade on Bobcats and other machinery we serviced, travelling across South Wales and the west country on breakdowns and service calls in the 1970's. Always a laugh a minute and never a bad word for anyone. I last met Gwynne at my surprise 40th birthday, 25 years ago now, and it was if time had not changed at all. Same Gwynne, same humour, same man.

31st May 2020

I was so sorry to hear of Gwynne's death, he was a very kind, always smiling and real 'gentle' man. He always stopped to talk if we were passing on the Peterson road him coming from Glenholm and us from Llanwensan.

I remember my dad Gwynne saying how he'd come to help at Crofta at harvest driving the tractors. I remember how both he and Martyn visited my grandparents at Crofta.

It was lovely to catch up with Gwynne at Uncle Ross's 80th birthday and how proudly he talked about David and Matthew.

I'm sure he's still tinkering with those bobcats with Uncle Jeff and Auntie Gwyneth proudly watching.

Andrew and I send our love and sincerest sympathy to you all.

17th May 2020

Such sad news to hear of your passing Gwynne. Have known you for over 30 years and had many conversations and laughs with you and your mum (Gwyneth and dad (Jeff). You always had a lovely sense of humour. Your kindness to me was much appreciated over the years especially when you acted as chauffeur to your mum and myself driving us to various functions so allowing us to have a little drop of "poison" without the worry of driving home. Thanks for that and your many acts .Sincere sympathy to your sons David and Matthew in their sad loss and to Martyn and Leanne and family.
God bless you Gwynne
Rest in peace

14th May 2020

Uncle Gwynne was a kind and gentle man who we will miss dearly around the farm. Gwynne would never fail to help when needed, even coming to Bristol airport when I came home from university, where he was for an hour when I was delayed. He wasn't even fussed when he was fined for staying in the pick up zone too long, such was his kindness. We will miss him greatly x

11th May 2020

Every time we met you, at Martyn and Leannes house you were always smiling, and gentle and helpful.
You were taken so suddenly, but your two boys will continue to make you proud.
Rest in peace

11th May 2020

I remember Gwynn as a quiet, gentle, kind boy. We were at school together at Pendoylan, I was just a week older than him. We were lucky to go to such a lovely primary and though our class size was very small (just 16), Gwynn was nevertheless still very shy. I remember him blushing on several occasions when I spoke to him – goodness knows what I said to him as I was a shy child too. But he was always friendly with a lovely big smile and keen to participate in the various antics we all got up to in the playground including a running relay team – though who we were going to compete against I cannot imagine ,being such a rural school. Such simple pleasures we had as kids then.

I am so very sorry to hear of Gwynne's passing and send my sympathy, love and condolences to all of his family.

Rest peacefully Gwynn.

Cynthia

10th May 2020

I first met Gwynne when Martyn and Leanne, my sister, married. He was always so gentle, so quiet, but always there when needed by Gwynneth and the family. A smile and a wave! Then his two boys, David and Matthew came to Pendoylan School where I was teaching. Again Gwynne was there at school events to help in the background. Mostly I remember him at the farm or with Gwynneth, his Mum.
A supportive, kind, helpful son, father, brother, uncle and friend to ALL his family. Rest in Peace Gwynne, condolences to David, Matthew, Martyn, Leanne and family. x

10th May 2020

We have very fond memories of Gwynne and are deeply saddened that we cannot all attend to say our goodbyes. A shock for everyone but we hope that these memories will be cherished forever by David and Matthew especially.

Gwynne and his brother Martyn spent many happy times down at Crofta Farm with myself and brothers, Gwyn and Ross, when they were young and growing up. They used to go to sleep on the large wooden settle in the kitchen when they were tired (a piece of furniture we have kept and all cherish). When Gwynne was older and able to drive, his love of machinery shone through and he would come and help us on the silage driving the forage harvester and when we were on the corn he would drive the combine harvester. He would also help us out when we were contracting on the farms around St Hilary and the Cowbridge area.

We know Gwyneth and Jeff would be very proud of the life Gwynne has had and the memories will live with us forever.

Rest in Peace Gwynne and love to all the family.
Mervyn, Beverly, Deborah, Suzanne, Natalie and families.

7th May 2020

I am so lucky that I met Gwynne and spent the past 8 very happy years with him. The kindest, gentlest person who would do anything to help anyone. Gwynne and I shared a love of the countryside and spent many happy times at agricultural shows with Pembroke and Brecon being our favourites, spending many happy hours looking at the vintage tractors, watching the animals and enjoying a breakfast. As long as we were surrounded by fields, trees and animals we were happy. Gwynne loved trees and would tell me so much of his knowledge of them which I loved hearing about.

Gwynne was always so proud of his sons, David and Matthew and spoke of them always, enjoying all their achievements and successes in their lives, he loved going to farm sales with them and would often have to dash away to help out because a tractor or some other farm machinery wasn't working. That was Gwynne all over, if he was needed, he would be there.

Shortly after I met Gwynne, we went to Sunday dinner with his mum and I felt like I was home, such a wonderful lady who made me feel very welcome and of course we were regular visitors, chatting about the past and people we knew and of course Gwynne's boys. We loved those visits with his mum.

One day when my car had died on me yet again, Gwynne offered to lend me his beloved Skip, his VW. He very seriously told me that it could not turn right. I believed him and worked out a ridiculous route to only turn left and showed it to him. The corners of his mouth started twitching and turned into a broad grin and his trademark Gwynne laugh. How can you not love someone who does that ? However when he told me the windows don't open, he really did mean it! He told me of times he had to exit car parks and had to get out the car and everyone was shouting at him 'You cant leave your car there!'. He thought it hilarious and never bothered to explain to anyone.

Gwynne never had to explain himself, he was happy as he was and I loved him so much for that.
Going to miss you so much Gwynne, sleep well xx

7th May 2020

I met Gwynne when Martyn and I first started dating. He was always back and fore Gwaun Wen, whenever I needed a hand, he would always be there. He was always happy to do anything Martyn and I asked of him. for the various charity do's we had at the farm, or for the Vale Show, Operation Christmas Child and even digging out a special needs school in Craigiau who were stuck in the snow! Always quietly helping in the background. Gwynne was never one for words, I would send him a long text of instructions and the reply was always OK, but NEVER no. We will miss him, but hope that David and Matthew know that we are always there for them if needed as their Dad was for us.

7th May 2020

I was so sorry to hear the sad news about Gwynne. My earliest memory of him goes back to 1974 when I went to teach at Radyr Comprehensive School and Gwynne was a pupil in one of my classes. He was always a quiet, well behaved and attentive lad. It was a pleasure to teach him. I met Gwynne again a few years ago when we he used to help with the setting up of the warehouse for Operation Christmas Child. As a man, he still demonstrated his quiet, gentle and humble nature. It was good to meet him each year since. He will be deeply missed by all who knew him. My wife and I extend our sincere sympathy to you all as a family.

7th May 2020

It's just so sad that someone who was the salt of the earth should depart this world at a time when we're denied the opportunity of paying the due respect he deserved. Having known Gwyn and the family from when he entered this world he was someone that held the respect of everyone that had the pleasure of knowing him. Gwyn was always someone who would walk that extra 2 miles if he thought he could help someone and this world will be a sadder place following his untimely departure. My deepest condolences to David, Matthew. Martyn, Leanne and the family
May he rest in peace.

7th May 2020

For so many years Gwynne has been such a vital part of setting up a temporary processing centre for collecting, checking and sending shoe box gifts for children in need through Operation Christmas Child. He gladly responded to our call every year and transported many trailer loads of equipment to where ever it was required. He was always so willingly helpful and we will miss him greatly in this respect and would like to express our thanks on behalf of the organisation for all that Gwynne contributed. Gwynne was such a lovely, quiet and humble man who we feel lucky and privileged to have known and spent time with. David and Matthew, Martyn and Leanne, we are so sorry that you have lost a great father and brother far too early but we know these memories will stay with you for ever.

7th May 2020

I had the pleasure to work with Gwynne building the Home Farm access tracks. Gwynne always had a kindness about him, and what struck me as an open minded fascination with life. Our conversation in the tea breaks stretched from the merits of the Fordson Super Major to the likelihood of life on other planets!! Gwynne will be sorely missed and always remembered.

6th May 2020

Where do we start!! Gwyn treated me like the third son, and was first on the scene soon as I had any break down or simply for a chat, his unforgettable laugh and jokes was just the best.
Not only being a top father and friend he cared about me and was always first to say "you ok" sad loss for us all, the memories never get lost just a token of our lives shared with a great guy, and a font of all knowledge when it came to machinery.
Your going to missed by us all Gwyn, and thank you for everything when you was with us x

6th May 2020

I have known Gwynne from the age of 6 when we moved to Peterston / Pendoylan in "no mans land" as it was called by the Pontsarn level crossing. We spent many happy years exploring the countryside on our bikes. We went through primary and secondary school together.
We visited several country's, mainly to beer festivals and toured Canada playing rugby.
We remained good friends from those early days right up to the present.
Gwynne became my "memories" as following an accident I suffered memory loss. He would come and collect me and take me to places that we uses to go and tell me all the things we used to get up to.
In the past few years we would meet several times a month to have coffee or best of all a cooked breakfast, which nether of use were supposed to be eating.
I would be in my office at home and see his car pull up outside, I would stop what I was doing close down what I was working on because I knew we would spend the rest of the day drinking tea and talking putting the world to rights, very much like his dad and mine use to do except they would have the whiskey bottle out, there are many stories, his moped, his "our" first car/van and many more.
Gwynne "is" my best friend, reliable, conscientious, trusting and was always there to help, he was the brother I never had.
I don't know how I will come to terms with the fact he is not here any more.
Gwynne will always be in my thoughts with many happy memories.

6th May 2020

I had the pleasure of working with Gwyn in the Laboratory and trained him on particle size analyser nearly every morning he had to log into the computer with his password, after getting it wrong the computer would beep which I could hear, I would ask everything ok Gwyn yes yes was the reply so after the 5th attempts I would tell him his password, this went on for months every morning beep beep beep beep ???? you may be thinking passwords are not easy to remember Gwyns password was Gwyn123 ???? ???? rest in peace pal ????

6th May 2020

Matt, David,

I had the Great pleasure of working with Gwyn for many years both on site and at the factory and loved our chats both talking none sense . I've looked for pictures and sadly don't have any from our good times in Norfolk ,collecting various plant and trucks but I do have very found memories . Both he was a great kind helpfull gentleman whom was always polite, kind and funny . Rest in peace Gwyn . I have many found memories . My thoughts are with you all at these sad time's .

4th May 2020

Sorry for your loss. My memories of Gwynn go way back to Pendoylan primary school fondly remembered.